BE Part of Something Special
| | |
| --- | --- |
| Posted on 15 December, 2018 at 12:39 | |
DAMIEN ESCOBAR
Branch Entertainment apologizes for the lateness of this SHOUT OUT!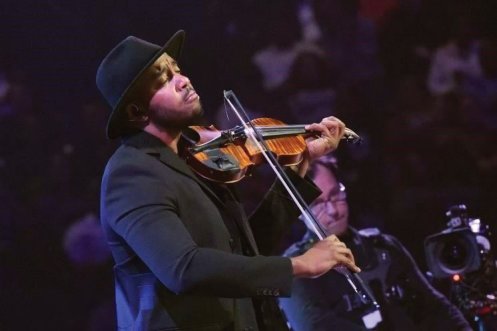 Branch Entertainment experienced an incredible evening to remember.The Main-Hilton Norfolk hosted the 6th Annual Jazz Legacy Foundation Gala Weekend on October 18-21-2018, featuring an outstanding line-up.

There was a particular music artist who stood out in our opinion, Damien Escobar.
Before the start of his performance we were very impressed with his heart felt story that he shared with the audience. His story was about his struggles and his come back.
In addition, he engaged and encouraged the audience to greet each other. This brought a feel of camaraderie in the auditorium. Phenomenal! Phenomenal! Phenomenal!
What amazed us was his ability as he was playing his violin, stroking the strings making his violin sound like a beautiful voice. He was ridiculously astonishing. His playing was breath taking. An unbelievable violinist with a back up band playing different genres of music such as Hip Hop and R&B. His music repertoire represented music artist - Chaka Khan, Prince, Aretha Franklin just  to name a few.
The different degrees of music was played from soothing to exciting, joyful and just downright jaw dropping.
It appeared everyone was having an incredible time, singing along with the music and dancing in the aisles.
The end of Damien's performance was a standing ovation from the audience. An applause that screamed out a sense of admiration. The reaction from the audience told a story that they definitely did not want his performance to end. Damien's performance was one of excellence, remarkable, unforgettable and spiritual.
When Damien comes back to town to the Hampton Roads Area, he is definitely on Branch Entertainment must see list.
CHECK DAMIEN ESCOBAR OUT!
Damien has a new CD entitled, "Boundless"
Categories: actors, performing arts, musicians, acting and music schools, Book stores, music artists, music business, night clubs, festivals,recording studios, record labels, Theatrical, entertainment, clubs, Writers
/