BE Part of Something Special
| | |
| --- | --- |
| Posted on 23 August, 2019 at 15:34 | |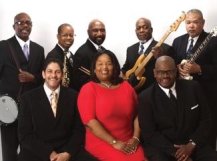 FORTE JAZZ BAND
CARLTON, VIRGINIA
On July 17, 2019 Branch Entertainment went out to see Forte Jazz Band perform at the Port Warwick Summer Concert Series in Newport News, VA from 6pm-9pm.
This day was an extremely hot day with a few fans showing up at the earliest part of the evening to experience one of the best bands around town.
Late in the evening when the sun started to set many more fans flooded Port Warwick to have a great evening with Forte Jazz Band.
Even though it was extremely hot, the audience appeared to be enjoying the smooth and groovy music as well as the band enjoying their fans.
If you want to hear an awesome jazz band, take the opportunity to go out an experience a wonderful and spectacular time with Forte Jazz Band.
Categories: actors, performing arts, musicians, acting and music schools, music artists, music business, night clubs, festivals,recording studios, record labels, Theatrical, entertainment, clubs
/