BE Part of Something Special
| | |
| --- | --- |
| Posted on 3 May, 2020 at 20:26 | |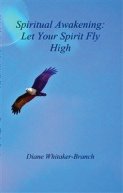 A GREATER PLAN
This poem, "A Greater Plan" is a poem from the book of "Spiritual Awakening: Let Your Spirit Fly High". I believe this poem is suitable for what we are going through at this time. It's a poem that reflects life and how life can change so abruptly without warning. So how do you deal with the changes, who do you look too, to help with answering questions about the disruption in your life?

During this time of uncertainties with the Coronavirus affecting our lives, I hope this poem, A Greater Plan will have a great impact in you seeking the answers that only God almighty have the answers too.
A GREATER PLAN
How quickly life can change in a blink of an eye
There are no certainties, no resolutions
Many times, confusion of not knowing
How or why life changes so abruptly
We look to God to answer our questions

Our minds are so bewildered
Because we can't find the answers in our lives
So, each day we walk alone trying to put the pieces together
Feeling a sense of loss
Wondering will life as we know it will ever be the same
                                    But!
In God's plan, the same may not be the choice

                             He wants for us
                                     But!
A plan that includes new and greater challenges
                     To create the being, he knows
                             We ought to be!
                   Author, Diane Whitaker-Branch

Categories: None
/