BE Part of Something Special
| | |
| --- | --- |
| Posted on 15 March, 2019 at 20:20 | |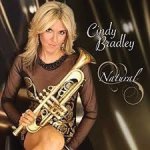 CINDY BRADLEY
JAZZ TRUMPETER
Native of Buffalo, New York

Branch Entertainment was at the Crispus Attucks Theatre in Norfolk, VA on Saturday evening, March 9, 2019. Cindy Bradley who is a Jazz trumpeter headlined the 3rd performance in the 4th season of the Church Street Jazz Series. Accompanying her was saxophonist, Nick, a class act. Cindy's and Nick duet Jazz performance was exhilarating. A lady with a flare, Cindy performed with a snazzy metallic pinkish color trumpet.
Cindy's 2nd set was just as energized and amazing as the 1st set. The audience appeared to be very receptive and enjoying the show.The music was very entertaining. Cindy's style with a twist made you want to be part of the experience.
Cindy performed many of her original songs such as "Brooklyn Bounce" and played a cover song by Wayne Shorter. She performed a song that she wrote for her husband, entitled "Everyone but You". The song was beautiful, heartfelt and the melody was extraordinary.
The band was dynamic, tight and was instrumental to the success of the show.
What caught Branch Entertainment attention, Cindy allowed each band member multiple times to showcase their talent and share the spot light with her.
This is what we call humbleness.
Moving along in the show, Cindy shared a story about her childhood experience that she was bullied and knew she had to stand up for herself. She wrote a song about her ordeal that reflected what she had to endure with the bully. The title of the musical piece was "Swing Set".
Besides loving her husband and her music, she shared that she has a passion for her 8 dogs and even write songs about them. Cindy has a song written entitled "All Ears" that she wrote for one of them. It appears her dogs are more like family than just mere pets.
In conclusion, Cindy Bradley is a must see on Branch Entertainment list. Check out this amazing Jazz Trumpeter, Cindy Bradley.

Categories: actors, performing arts, musicians, acting and music schools, music artists, music business, night clubs, festivals,recording studios, record labels, Theatrical, entertainment, clubs, Writers
/